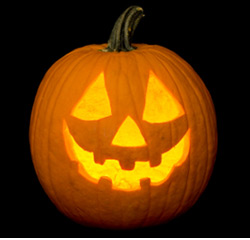 As the days count down to Halloween you may find yourself trying to determine the best way to enliven your porch pumpkin.  While many techniques have been developed for jack-o-lantern carving and design, the following basic principles can guide you to well-lit spooky success as you entertain trick-or-treaters who visit your home and neighborhood.
Choose Your Pumpkin – Traditional jack-o-lanterns are round, but you may want a flat pumpkin or one that's been scarred if it works better with your overall design.  Variety is rampant in pumpkins these days, allowing you to get just the right style and color for your home.
Carving Prep – Before beginning your project, gather your materials from around your home, from knives and scoops to newspaper and patterns, so that you can create quickly and avoid making a big mess.  Prior to carving your pumpkin face or design, you'll need to create a cap or lid by cutting a circle/zigzag shape around the stem at a slant so you can scrape and scoop out the pumpkin insides.  Another option is to cut from the base to avoid interference with a patterned pumpkin.
Determine Your Design – Choose from a combination of basic shapes or explore using paper to create a stencil pattern once you begin designing the look of your jack-o-lantern.  Once your stencil is in place, use a pushpin to transfer the design from paper to your pumpkin and then carve by following the pin pricks.  You can also draw directly on your pumpkin with a washable marker and carve on the lines.  Carve the smallest areas of your design first as they can be tricky and if you mess up, you'll be able to modify your design if needed.  When your carving is complete, simply wash off any remaining marker to see your finished product.
Choose Your Light – While a candle will definitely contribute a more eerie glow, if you have small children or pets, it may be wiser to use LED lights for your jack-o-lantern.  Disposable glow sticks are a possibility, too, if you prefer to try out differing colors at little expense.  Either way, make sure your pumpkin is well lit on Halloween, so that little goblins and ghouls will know that they can visit your home for a special treat.