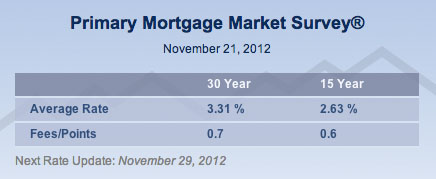 2012 has seen consistently low mortgage rates, but according to the Primary Mortgage Market Survey® (PMMS®) recently released, those rates have gotten even lower this week!
With the 30 year fixed averaging at 3.31% and the 15 year fixed averaging at 2.63%, qualifying home buyers have increased opportunity to purchase the home of their dreams, possibly even your home. These rate averages include points (.7 on a 30 year loan and .6 on a 15 year loan), but are still lower than any other week compiled this year by Freddie Mac. Lower rates mean that a home buyer can buy the same amount of home for a smaller monthly mortgage payment and/or possibly qualify for more home than previously expected.
According to Frank Nothaft, vice president and chief economist at Freddie Mac,"Fixed mortgage rates continued to ease somewhat this week to record lows and should help the ongoing housing recovery." Nothaft continued, "Already, new construction on homes was up 3.6 percent in October to the strongest pace since July 2008. In November, homebuilder confidence rose for the sixth straight month to its highest reading since June 2006 according to the NAHB/Wells Fargo Housing Market Index. And existing home sales increased 2.1 percent in October to an annualized pace of 4.79 million, exceeding the market consensus forecast."
When home buyers have more buying capacity and inventory is low due to increased home sales, home sellers are likely to see increases in home prices and multiple offers. If you are interested in selling your home, these trends make it worth your while to contact a real estate professional to learn specifics on selling your home. Read more about mortgage rate trends by clicking here.